I have a proud to announce that I received a recognition as Technical Rock Star award for Cloud Computing.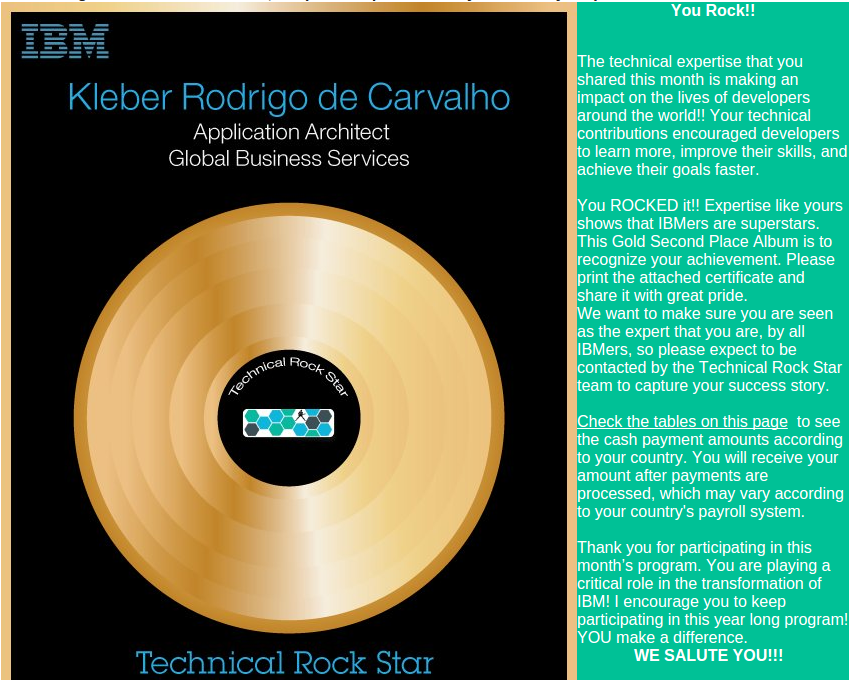 The technical expertise that you shared this month is making an impact on the lives of developers around the world!! Your technical contributions encouraged developers to learn more, improve their skills, and achieve their goals faster.
You ROCKED it!! Expertise like yours shows that IBMers are superstars. This Gold Second Place Album is to recognize your achievement. Please print the attached certificate and share it with great pride.
We want to make sure you are seen as the expert that you are, by all IBMers, so please expect to be contacted by the Technical Rock Star team to capture your success story.
Thank you for participating in this month's program. You are playing a critical role in the transformation of IBM! I encourage you to keep participating in this year long program! YOU make a difference.  WE SALUTE YOU!!!
The challenge was reach and engagement on social media to enhance and promote IBM's Cloud thought leadership and get the word out about Cloud, IBM Bluemix and its services like Data Services.
Through my social networks (Twitter, Google+, Linkedin, Stack Overflow, my personal blog etc), I've shared resources that I'm reading such as webinars, blogs, tutorial, code samples, videos, books, papers, articles regarding Cloud computing. I tried share my experiences and insights to Developers, Architects Engineers and students.
Rather than receiving the award, I'm really very proud to receive the congratulations of several people at IBM that I admire.
They took a minute from the busy day to wish congrats to me. I appreciate it from the bottom of my heart.
A tech guy as me to be recognized as Technical Rock Star is awesome.
I'm feeling like Rock Star.
Thank you so much.